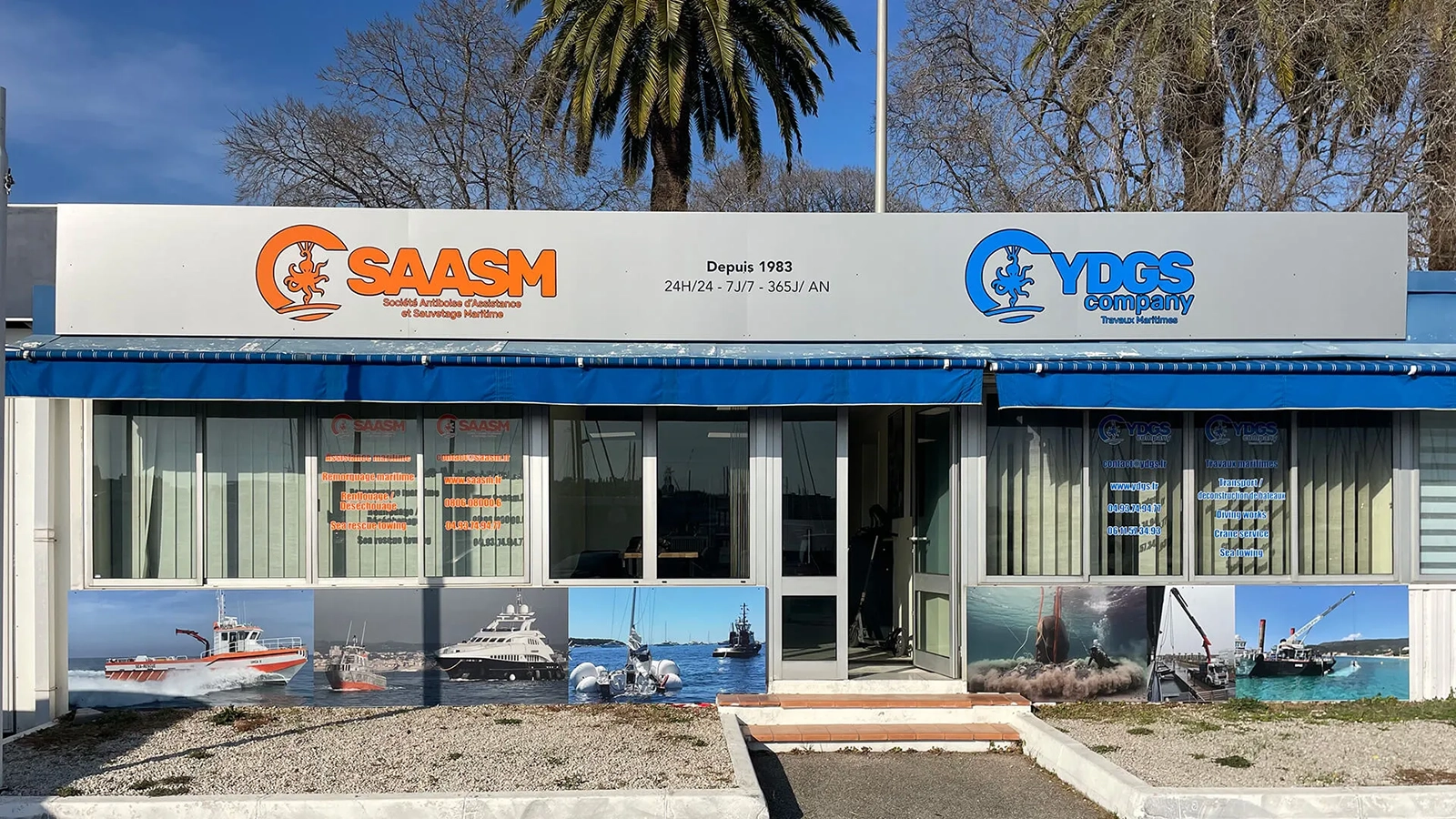 about
Founded in October 2016 and registered with the RCS d'Antibes under number 823 567 508, YDGS Company (Yachting Diving General Services) is based in the Provence-Alpes-Côte d'Azur region, where we primarily operate in the 06 and 83 departments.
Our company offers a wide range of maritime services such as maritime works, pollution control, maritime towing, boat destruction and transportation, lifting and handling, and the rental of barges and maritime equipment. We have over 35 years of experience in the field thanks to our leaders who have always worked in maritime works and have been pioneers in mooring methods and services required for luxury yachts.
Our headquarters is located at 1890 Chemin de Saint Bernard, 06220 Vallauris, where we also have our 500 m2 warehouse including our repair/workshop and part of our equipment park. We also have a 1500 m2 equipment park in the Carros Industrial Zone. We have two maritime branches, the first located at Port Vauban in Antibes and the second at Port du Mourre Rouge in Cannes. Our leaders are available 24/7, 365 days a year for diving, lifting, and towing/mooring operations.
Our logistics allow us to quickly intervene on both land and water in the Alpes-Maritimes and Var sectors. We are proud of our achievements at Port Vauban, including the design and construction of all moorings since 1990, including those of the famous Billionaires' Quay with its 17 berths for mega-yachts. Since 2010, we have also held the DSP (public service delegation) for the boatyard area at Port du Mourre Rouge.
The quality
Since their inception, the leaders have been committed to a quality approach. Their primary goal is to ensure complete customer satisfaction. They have been able to build customer loyalty for thirty-five years by providing high-quality services that meet their expectations.
This commitment to quality has allowed them to enhance their performance through a continuous improvement process. It is necessary to constantly identify and reduce malfunctions within an organization and evolve in order to continue delivering quality services.
The environment
Today, the sustainability of the economy relies on the environment. Industries must control their ecological footprint. Therefore, our company's project is focused on supporting the ecological transition.
Internally, we place particular importance on waste management and material recycling. Our long-term goal is to continue significantly reducing the ecological footprint of our projects. To achieve this, our leaders stay regularly informed and study different options that are most suitable and feasible within our company.
Here are two examples of our environmental commitment:
In 2019, our company participated in the cleaning of the seabed in Port Vauban. Read the article. On January 28, 2021, we collaborated with the Cannes City Hall and the renowned sculptor Jason DECAIRE TAYLOR. We submerged six statues, each over 3 meters tall and weighing approximately 12 tons, south of Sainte Marguerite Island to create an underwater eco-museum. Watch the video. Furthermore, we commit to carrying out the tasks associated with this contract with a general approach to environmental protection.
We will take into consideration the risks associated with environmental impacts and implement preventive actions to mitigate them. Special attention will be given to the typology of collected waste and the treatment facilities used. Preference will be given to valorization processes.
The transportation of waste by road will also prioritize local treatment centers to avoid unnecessary impacts of pollutants on the environment.
Our operators are also trained to preserve the environment during the execution of their tasks (noise, air and water quality). In an effort to reduce noise pollution, our operators implement controlled and intelligent vehicle and equipment operation by moderating speeds and adhering to eco-driving principles (avoiding unnecessary accelerations, engine shutdown during inactivity, following road instructions, etc.).
All of our construction equipment is regularly maintained to ensure optimal energy and environmental performance. Rigorous maintenance of elements that can generate nuisances on vessels (engines, cylinders, etc.) logically leads to a reduction in pollutant emissions into the water and air (lower fuel consumption, no leaks, fewer greenhouse gas emissions, etc.). These eco-driving principles significantly reduce the environmental stress caused by our activities.
By doing so, our company fulfills its primary role as an advocate for the environment without adding additional nuisances.
Finally, we maintain an updated stock of absorbent booms, pads, and bulk absorbents (diatomaceous earth), as well as personal protective equipment (gloves, goggles, protective suits), which allow us to intervene in water and land pollution incidents.
We raise awareness among our staff about pollution prevention and provide them with the appropriate anti-pollution equipment and personal protective gear. We have identified potential pollutions that may occur during our various interventions (mainly hydrocarbon pollution) and defined the procedures to be implemented.
For pollution treatment, we coordinate with the surveillance service. We ensure the depollution of vessels before their transportation. We collect the waste generated by our activities in suitable containers and ensure their disposal according to the predetermined process in an appropriate facility (port waste collection site or specialized provider). The deployed anti-pollution equipment and used personal protective gear are treated as contaminated materials and disposed of accordingly.
Qualifications
YDGS Company has been evaluated and deemed compliant with the requirements of the certification program "Hyperbaric Work PRO PPS 051 Ind 0" to perform hyperbaric works with Mention A by QUALIANOR CERTIFICATION.
Validity end date: 2023-12-17.